Accommodation and Holiday Information for Heart of Country Region New South Wales
Heart of Country New South Wales Accommodation and Holiday Bookings
You can search for and book online all your Accommodation and Car Hire here.
The New South Wales Outback is a triangular region in the west, covering around one third of the state.The region commences along the western half of the state border with Queensland, encompassing the remote outback towns of Bourke and Walgett. It heads south through the mining towns of Cobar and Broken Hill, finally reaching the Murray River and state border with Victoria where Wentworth, Mildura, Euston and Robinvale straddle this mighty waterway.
Experience the spectacular rugged beauty of this region including arid landscapes, old mining towns, rivers, lakes and abundant wildlife.
Follow the Darling River, Australia's third longest river, from its source just east of Bourke, through to Wilcannia, once one of Australia's largest shipping ports. From there, the river heads to Menindee where it feeds an area of glittering lakes with abundant birdlife within the Kinchega National Park. Heading south, river reaches the historic port of Wentworth where the Darling River meets Australia's longest river, the Murray.
Towns of the Heart of Country NSW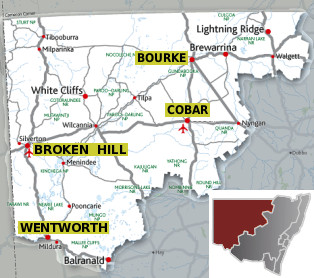 Open Cut Mine Cobar Sunrise Broken Hill
Credit Great Cobar Heritage Centre
Credit Destination NSW