Richmond Tasmania Accommodation and Holiday Information
Richmond Accommodation and Holiday Bookings
You can search and book online for all your Richmond Accommodation here.
Richmond is a picture-perfect town in the heart of the Coal River Valley wine region that tells the story of an early Australian colonial village. This is the perfect place to learn about Tasmania's past and can be as easy as a stroll down the pretty nineteenth century streets.
Richmond has more than 50 Georgian buildings, many beautifully restored and now operating as cafes, restaurants, galleries and accommodation.
The town's most photographed landmark is the Richmond Bridge. Built by convicts in the 1820s, it's the oldest bridge in Australia and offers a perfect picnic spot on the grassy banks of the Coal River.
The Richmond Gaol is also the oldest gaol in Australia. Standing inside the stone cells gives an eerie insight into the hardships and brutality of convict life in early Van Diemen's Land.
Not so confronting is the Hobart Town Historical Model Village where you can learn about the life of settlers in Hobart in the 1820s.
There's also plenty of good food and wine to enjoy, from traditional bakeries and pubs in town to nearby vineyards with cellar doors and restaurants serving up the best Tasmanian produce.
If traveling to the East Coast or Tasman Peninsula from Hobart, consider visiting Richmond on the way.
Directions
Richmond is a 30-min drive (24 km) east of Hobart.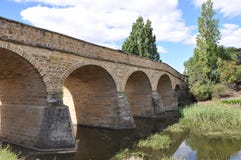 Richmond Arms
mages Credit Wai Nang Poon
History House Garden in Richmond