Stanley Tasmania Accommodation and Holiday Information
Stanley Accommodation and Holiday Bookings
You can search and book online for all your Stanley Accommodation and Tours here.
Stanley
Credit Urike Herzog
Stanley is a town of perfectly preserved colonial buildings, genteel cafes and quality B&B cottages, all sheltering in the imposing shadow of the Nut, an immense flat topped, volcanic plug rising 150 metres straight up from the water's edge.
It's also close to some great nature experiences and Tasmania's Tarkine wilderness.
After enjoying Stanley's famous fish and chips, climb the winding path to the top of the Nut for a spectacular 360-degree view and an aerobic workout, Stanley-style.
For a less strenuous trip, take the open chairlift ride and look out for seals basking in the sun and at night, the local penguins can be seen coming in to nest.
Stanley has plenty of fascinating stories, too. You can take a history tour through Stanley's streets, lined with quaint stone cottages dating back to the town's early days when it hosted the headquarters of the Van Diemen's Land Company or visit Highfield Historic Site, home and farm of the chief agent of the Van Dieman's Land Company, on a ghost tour at night, or wait for the safety of daylight to learn how the area's first European settlers lived.
To learn more about he history of the district visit the Stanley Discovery Museum and Genealogy Centre
Many historic properties have been restored and now operate as cafes, shops and accommodation.
The coastal Rocky Cape National Park is a just a short trip east and the temperate rainforests of the Tarkine wilderness and Savage River National Park are both within a 1-hr drive.
Guided tours and scenic flights are available, including coastal cruises departing Stanley wharf.
Directions
Stanley is a 1-hr drive (75 km) west of Burnie.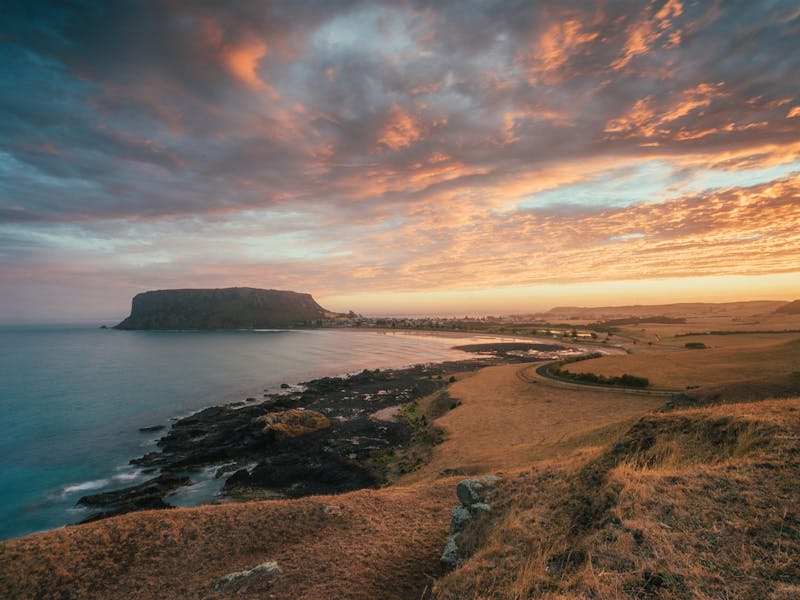 The Nut
Credit Discover Tasmania
Gardiner Point ( Edge of the World )
Credit Sean Scott