Morwell Victoria Accommodation and Holiday Information
Morwell Accommodation and Holiday Bookings.
You can search and book online all your Morwell Accommodation here.
Location: 150km S.E. of Melbourne.
Settled In 1861, Morwells early role was in supplying diggers and merchants heading to the goldfields of Walhalla and Tanjil Coal mining began in Morwell in 1955. by day and at night..
Things to do in Morwell
Latrobe Regional Gallery - Commercial Rd
Morwell Community Playground
Morwell Community Rose Garden Commercial Rd
West Morwell National Park - 16km south
MAJOR EVENTS :
Annual rose pruning demonstration weekend - July
Morwell Celebration of Roses - April
Church Street Fiesta - November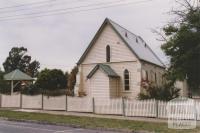 Mowell Church of England